Nuuaria Mentor Robin Howell
Meyers Briggs Personality Type: ISFJ
Diabetes, Weight Loss, Stress, Retired Teacher, Certified Nutrition and Wellness Consultant, Water Fitness Instructor, Avid Walker, Nature Lover, Enjoys Life, Always Learning
I choose to make the rest of my life, the best of my life.
Louise Hay
about Robin
My life has taken me on quite a journey, and I have traveled different paths along the way. Some paths were smooth, some were bumpy and had detours to navigate along the way. I believe when one experiences those different paths in life that it will lead you to the destination of where you are meant to be. Truthfully, I wished my path would lead me to the ocean or to waterfalls as I love nature, flowing bodies of water and green trees!

My paths have not all been healthy. I have experienced stress, been overweight, diagnosed with diabetes and Hashimoto's thyroiditis, and many times lacked confidence in myself. I have experienced the fear of failing anytime I would start a new program or sign up for another gym membership!
Career wise I have worked in a stockbroker's office, been in customer service at a bank and for 25 years I was a preschool teacher. My most rewarding job has been raising my children who are now successful adults. I now look forward to adding "Grandma" to my resume as I am expecting my first Grandchild!

Thankfully, my path also led me to inspiring people who encouraged me and believed in me, even in those times when I did not believe in myself. Nuuaria helped me not only get physically healthier but healthier in my behavior and thoughts. Even if I am not by the ocean or waterfalls I can feel at peace because I have discovered that I have it within me.

My journey has now brought me here: Mentor for Nuuaria where I can guide you and others to live your best life. Recently I completed a course of study and I have my Nutrition and Wellness Consultant certificate. I have also become an aqua fitness instructor at a gym. I believe it is never too late to learn. Maybe today you have learned what has NOT worked for you. I here to help you discover what will work for you.

My goal is to inspire and help others enjoy life and be healthier. I look forward to helping you in your wellness journey.
Not once did I ever feel judged and immediately, I felt the beautiful energy and love given to me. After coming up with a game plan with I knew it was going to be my new beginning. After 3 months of being with Nuuaria I've lost a total of 38 pounds. My glucose levels are now normal and my energy is back.
I fit in clothes I couldn't fit into for YEARS. Simply by changing my diet and eating foods good for my body. I began to learn it wasn't about the food either. Learning to unlearn is still a struggle and I know it's never easy but totally doable because it's all within ourselves and we all CAN DO THIS.
To have been able to meet the Nuuaria team including my amazing mentor and always feel the love never feeling alone in this journey is the most beautiful feeling. I'm learning things about me I never knew were always within me. To all of you thinking you can't do this, know you can and even though it's never easy, it's never too late to be a better you."
Your First Mentor Session with Robin
schedule by clicking the button below to view robin's availability
Certificate of Nuuaria Mentor Training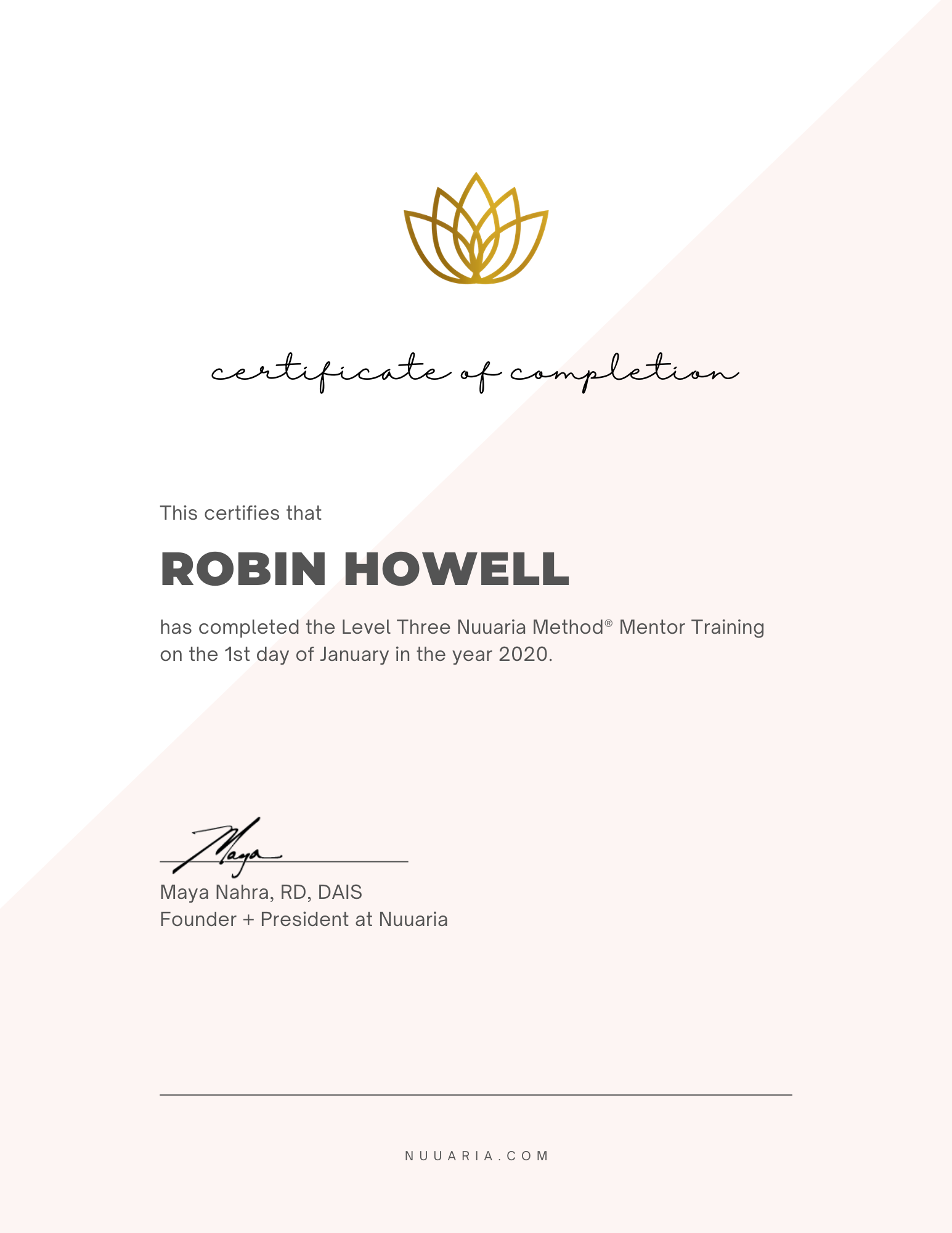 Background

Diabetes, Weight Loss, Stress, Retired Teacher, Certified Nutrition and Wellness Consultant, Water Fitness Instructor, Avid Walker, Nature Lover, Enjoys Life, Always Learning

Programs Robin Mentors In

Weight Loss
On Demand Weight Loss Retreat
Stress + Meditation
Anxiety from Catastrophic Thinking
Created with